THE MONEY RAISED HERE — STAYS HERE!
Right here in DeKalb County

The entire community benefits from the monies raised in the Red Kettles over the holidays. It is used by RSVP for their "back packs for kids" program (aka Tools for School), as well as their gifts to the nursing homes at Easter & Christmas!
It is also used by Shelter Ministries to help families with rent, utilities, non-narcotic prescriptions, gas vouchers and emergency services throughout the year.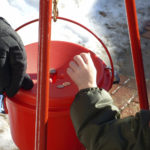 Local groups, organizations, businesses, churches, and schools, can reserve a day, and schedule their ringers throughout that time. It's just one small way to "Pay it Forward" for the entire community. 
Ringing the Bell is fun and easy, for all ages!  Anyone can schedule for an hour, or an entire day. And you can sign up on line at: www.registertoring.com — or call 260-925-9200 EXT 301 or 260-437-0432 to schedule a time!
Once again, our goal this year is $20,000.00.  PLEASE, help us make our goal!